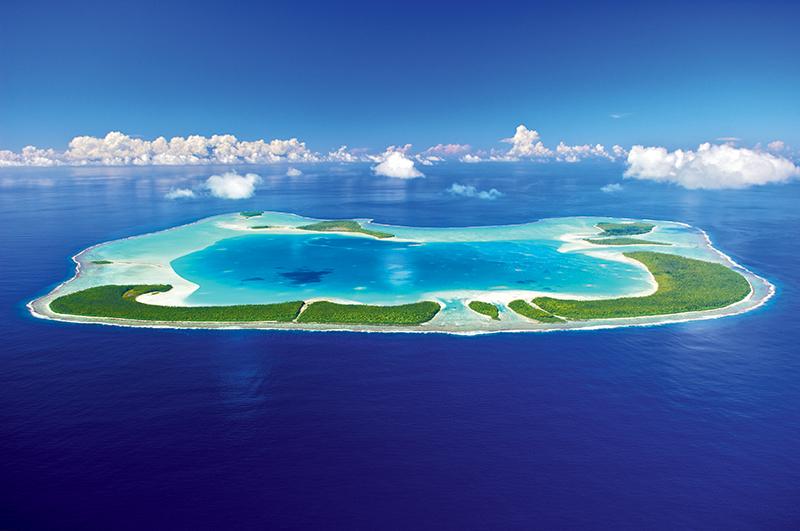 Marlon Brando Falls In Love And We Get The Benefits
by Dean Horvath
in Travel
Posted on

20/01/2016 06:29
The story begins with Marlon Brando, who fell in love twice while filming the classic movie "Mutiny on the Bounty" in 1960. The first time was with his soon-to-be third wife and co-star, Tarita Teriipaia. The second time was with the small island called Tetiaroa, located 30 miles north of Tahiti and the traditional summer home of the local Polynesian royalty.

Shortly after filming ended, Brando purchased the uninhabited island and frequently vacationed there to get away from the Hollywood limelight. He dreamed of building a "university" that would educate others about the many facets of the island's environment and culture.
Marlon Brando with his wife Tarita Teriipaia and son Teihotu Brando, vacationing on Tetiaroa in 1965.
Although Brando never lived to see it, his dream has come to fruition, thanks to the luxury hotel operator Pacific Beachcomber, who built the new resort in conjunction with Brando's remaining eight children.
The 35 villa luxury resort called The Brando opened in July 2014.
The resort is committed to becoming the first hotel in the world to obtain LEED Platinum certification, the organization's highest accolade.
The resort is 95% energy independent (they lose the 5% because of natural gas used for cooking.) Electricity requirements are met by a combination of solar panels and generators fueled by coconut oil, while revolutionary technology known as seawater air conditioning (SWAC) uses deep seawater for air conditioning.
You can stay in a one, two, or three bedroom villa.
Here's your view from your living room, overlooking your private plunge pool.
Your bathroom overlooks your private garden.
If you're lonely at your private plunge pool, feel free to use The Brando's main pool.
Les Mutinés (The Mutineers), is the fine dining restaurant, features the award-winning cuisine of Guy Martin of the Michelin two-star restaurant Le Grand Véfour in Paris.
When you're in the mood for casual dining, the beach restaurant should hit the spot.
The restaurants serve produce directly from the garden.
The Brando is dedicated to preserving the environment and the culture of the island. Proceeds from the resort go towards funding the EcoStation, a think-tank for scientists and researchers to study conservation.
The highlight of The Brando is that you'll feel like you have the island all to yourself.
The all-inclusive nightly rate includes:
luxurious accommodations;

all meals in all dining venues;

all drinks;

24-hour dining in the privacy of your villa;

1 excursion per person per day from a select list of options;

internet access;

1 bicycle per guest;

access to an outrigger canoe, kayak, and paddleboard; and snorkeling equipment.
PLANNING A TRIP
We Can Help.
Discover how we're able to dramatically improve the quality of your trip.